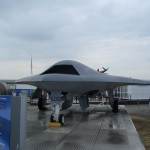 Important events in history seemed to be timed. Especially in the South Asian context.
I see a connection between the drone attacks in North Pakistan, Nawaz Sharief future polices. The Qatar talks, the pull out of troops in 2014 from Af-Pak.
There will be airspace issues, but then the war really has on borders.
I wonder what happened of the Chinese intrusion into India?
Recently saw Oblivion, starring Tom Cruise … all about drones and their control from outer space. The drone design in the movie was a crisp smart one. Video games can imitate life or life can be a video game.
The X-47B and its launch is not only historic, but will change the course for it for the time being. Read on:
Northrop Grumman, U.S. Navy Catapult X-47B From Carrier Into History Books.
Join the Forum discussion on this post